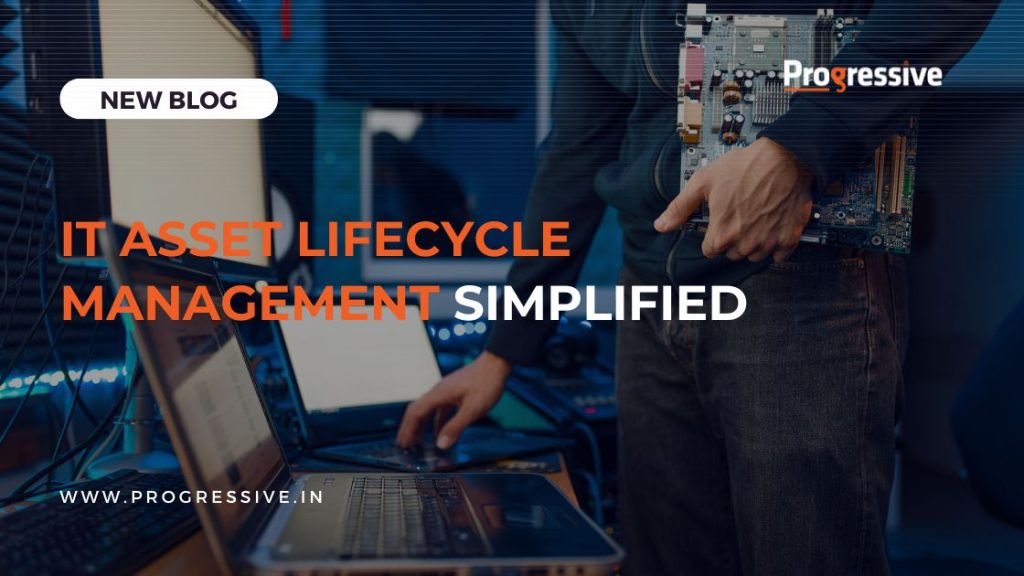 The complexity of technology and the constant need for change make it difficult for IT teams to keep up, leading to lower visibility into the assets they manage. By optimizing IT asset management processes, organizations can streamline their IT asset operations, reduce complexity, and improve visibility, ultimately leading to more efficient and effective IT asset lifecycle management.
Consider the following facts:
What is IT Asset Lifecycle Management?
IT Asset Lifecycle Management is a crucial process that all organizations should prioritize, as it allows them to effectively manage their IT assets throughout their entire lifecycle. By implementing an efficient IT Asset Lifecycle Management strategy, organizations can optimize asset utilization, reduce costs, and ensure compliance with legal and regulatory requirements.
This approach involves tracking and monitoring IT assets, maintaining and upgrading them when necessary while properly disposing of them at the end of their useful life. By taking a holistic approach to IT Asset Lifecycle Management, organizations can maximize the value of their IT investments and focus on their core business objectives.
What are the core components of IT Asset Lifecycle Management?
Procure – Acquiring IT assets through careful planning and decision-making.
Discover – Identifying and tracking all IT assets within an organization.
IMAC (Installs, Moves, Adds & Changes) – Managing the deployment and configuration of IT assets to ensure effective use.
Support – Providing ongoing maintenance and support to ensure the proper functioning of IT assets.
Disposal – Properly disposing of IT assets at the end of their usage life to minimize security risks and environmental impact.
What is Symphony SummitAI?
Symphony SummitAI is a powerful IT Service Management (ITSM) and IT asset management (ITAM) software solution. It leverages AI and automation to streamline IT operations. Its ITAM capabilities are instrumental in managing IT assets throughout their lifecycle.
It has features like hardware and software inventory tracking, software license management, and asset lifecycle management. Symphony SummitAI allows the tracking and management of your IT assets efficiently and effectively. The software's AI-powered analysis and automation also help you manage software licences, reduce costs, and enhance service delivery.
How Symphony SummitAI simplifies IT Asset Lifecycle Management?
1. Hardware Asset Management
Symphony SummitAI provides numerous benefits to users, including easier tracking and reporting of assets. By automating planning, cost accounting, and security monitoring operations, it can improve hardware utilization and minimize wasteful purchases. Also, it can identify unapproved hardware devices, updates, and additions. This helps businesses to stay on top of their assets and ensure that they are being used in compliance.
In other words, implementing Symphony Summit AI can streamline the hardware asset management process and provide businesses with a comprehensive solution for managing their hardware resources for optimum IT asset lifecycle management.
2. Software Asset Management
Software asset management is crucial for businesses to manage their software resources effectively. Symphony SummitAI provides a real-time, holistic view of application licensing and usage across your network. This is made possible through features such as active directory management, agent-less IP subnet discovery, and agent-based scanning, which altogether allow for comprehensive software inventory management.
Automated compliance reports help businesses avoid licensing penalties by ensuring that their software is in compliance with licensing agreements. With Symphony Summit AI, businesses can streamline their software asset management process and gain valuable insights into their software usage and compliance, enabling them to optimize their software resources and avoid costly penalties.
3. IT Asset Discovery
Visibility of IT assets is an essential aspect of managing a business's IT asset lifecycle. Symphony SummitAI gives IT teams the ability to detect and manage the entire IT infrastructure. It provides complete control and insight into their assets. This is made possible through the use of agentless discovery, which can even work in low- or no-bandwidth settings, making it ideal for remote or hard-to-reach locations.
With Symphony Summit AI, all data is centralized, allowing for in-depth analysis, and providing users with a comprehensive view of their IT assets. Businesses can streamline their IT asset discovery process. They can gain valuable insights into their infrastructure, and optimize their IT assets for improved efficiency and performance across the lifecycle.
4. Asset Compliance & Security
For businesses to ensure that their assets are in compliance with regulations and security policies, an asset compliance management process is a must-have. Symphony SummitAI enables the whitelisting and blacklisting of IT assets. This ensures that only permitted programs can access the data, providing enhanced security.
The ITSM tool facilitates patch management that secures your network and automates alerts or updates to fix vulnerabilities faster. This enables businesses to stay ahead of potential threats and minimize the risk of security breaches. Real-time reporting is also available. It can show over 200 parameters, providing users with valuable insights into their asset compliance status.
5. Asset Lifecycle Optimization
Assessing the data and inputs in real-time, IT asset lifecycle management led by Symphony SummitAI's ITAM allows organizations to automatically discover, track, and manage all their IT assets including software and hardware assets. It also enables IT teams to fetch the required operational reports and make more informed decisions about maintenance schedules, asset disposal, licences, and future asset procurement.
By automating routine tasks using Symphony SummitAI's capabilities, organizations can free up IT staff to focus on more strategic initiatives. They can shift their focus on reducing expenditures associated with hardware and software asset management. IT leaders can identify key areas for cost optimization thereby significantly reduce the time required in IT asset management activities.
Get Started with Best Practices for IT Asset Lifecycle Management
At Progressive, we understand the importance of effective IT asset lifecycle management for organizations of all sizes. By gaining a thorough understanding of your organization's IT assets and infrastructure environment, we can provide tailored lifecycle management solutions that address the unique challenges you face.
Our services are designed to leverage tools such as Symphony SummitAI and thereby produce actionable & data-driven insights. Businesses can streamline costs, improve productivity, and mitigate the risks associated with IT audits. We help organizations keep up with software licensing, better manage hardware lifecycles, and simplify procurement processes, enabling them to focus on their core business objectives.