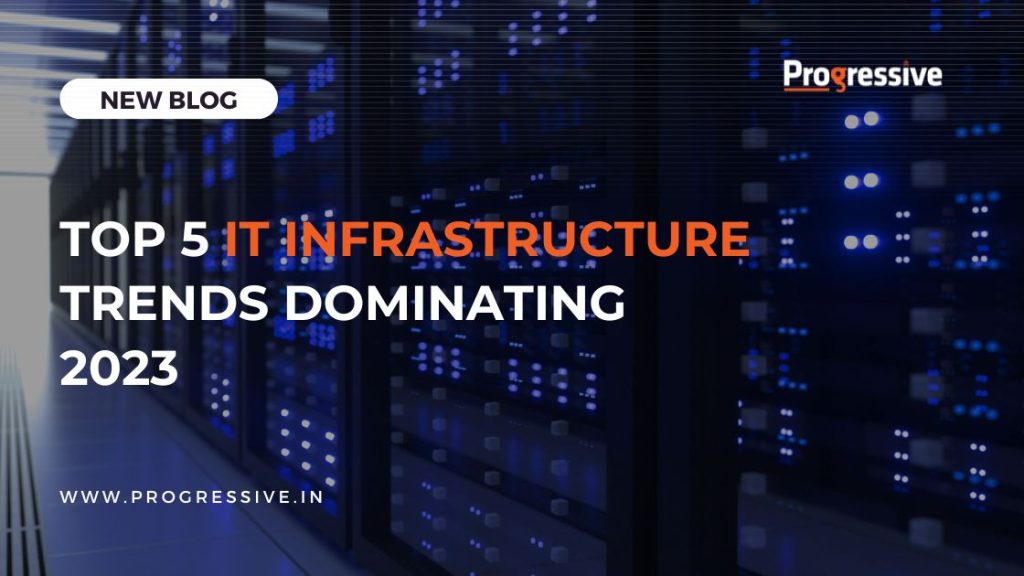 "May you live in interesting times" is probably what we are witnessing today. The world is undergoing tremendous transformations due to technology. The work, the workforce, and the workplace – everything is changing at a faster pace. Technology powers nearly every aspect of business and the entire IT infrastructure's availability has never been more important.
Consider these 2023 IT Infrastructure facts:
According to The 2023 State of IT Report by SWZD, IT budgets are projected to increase by 13% on a year-over-year basis in 2023. 51% of the survey respondents identified the requirement to modernize their existing IT infrastructure as the primary driver for such budgetary increments in their respective organizations.
IDC's research shows that 80% of decision-makers worldwide recognize that digital infrastructure is important or mission-critical to enabling the achievement of business goals.
More than 50% of enterprise data will be created and processed outside the data center or cloud by 2025, according to Gartner.
Despite uncertain economic conditions, IT budgets are on the rise. Businesses seek to upgrade their outdated technology infrastructure that may be hindering their growth. The process of modernizing an organization's IT infrastructure varies depending on the industry and customer base.
For CIOs to tailor the approach to their specific business needs, it is important to first identify the primary IT infrastructure challenges being faced and how they are impacting the overall operations. For instance, the organization may be dealing with outdated and expensive legacy technology or infrastructure that lacks the flexibility to meet immediate business requirements. If so, CIOs need to consider the role of IT infrastructure managed services.
What is the role of IT Infrastructure Services?
Enable businesses to establish a strong and secure technology foundation for their operations.
Provide support for hardware, software, and network components to ensure the reliability and efficacy of IT operations.
Improve system performance and availability while maintaining data security and compliance.
Manage technology environments effectively by providing proactive monitoring, maintenance, and 360-degree support services.
Accelerate digital transformation initiatives and the adoption of new technologies.
Reduce IT costs, improve productivity, and enhance the overall end-user experience.
Here are the five IT Infrastructure Trends dominating the business world in 2023:
1. The Shift Towards a Multi-cloud Infrastructure
Technology has evolved towards cloud-based services. The importance of IT infrastructure has shifted from a cost center to a strategic business enabler. This requires IT professionals to adapt their skills and mindset accordingly. IDC predicted that by 2023, the majority of infrastructure customers in the G5000 (the top 5000 global companies) will adopt proactive multi-sourcing strategies in response to ongoing IT supply chain disruptions. This is being done to safeguard against potential IT supply risks in the future.
Cloud teams will optimize and refactor cloud infrastructure while data center teams will adopt cloud principles on-premises. Therefore, it is crucial to consider the training and education required to support a modern, hybrid cloud and data center-based IT environment throughout the digital transformation process. By doing so, businesses can ensure they have the capabilities needed to achieve a future-ready IT infrastructure and focus better on their business goals.
2. Automation, AI/ML, and Your Organization
The implementations of Artificial Intelligence, Machine Learning, and automation technologies are transforming businesses, regardless of their size. This trend is expected to grow larger within the next few years. Thanks to advancements in AI research, innovative use of ML and NLP models, and the recent focus on ethical guidelines. In simple words, AI is gradually becoming an integral part of an organization's IT infrastructure. According to Forrester's data, 46% of decision-makers in data and analytics (business and technology) are searching for partners to implement AI that is essential to their business.
Forrester also predicted that businesses would make AI a foundational element of their enterprises in 2023. Currently, businesses are shifting from systems of 'record' to systems of 'insight'. This has led to a surge in the use of automation in every industry. In addition, industries are increasingly integrating AI/ML capabilities into edge devices as they move from data storage to data activation, leveraging information for governance and decision-making.
3. New Technologies for New Ways of Working
Enterprises are increasingly adopting sensors, AR/VR gadgets, actuators, and IoT gateways that have the ability to interconnect, analyze data, and enable seamless functioning. According to Statista, In 2021, the global market for augmented reality (AR), virtual reality (VR), and mixed reality (MR) amounted to 28 billion U.S. dollars, and it is projected to surpass 250 billion U.S. dollars by 2028. From robotic process automation (RPA) to the emergence of smarter wearable devices, industry sectors such as manufacturing and healthcare are undergoing faster transformations.
While bots are writing codes and content, 2023's way of working is all about measuring the effectiveness of new tools & platforms and assessing their future potential to transform business operations. In an inevitable hybrid working environment, businesses have been successfully adopting collaboration tools and technologies to enable a fully digital workplace. Service desk automation is also increasingly trending to support the hybrid workforce and elevate the employee experience.
4. Visibility for Security: Protecting IT Infrastructure
IT infrastructure plays an important role in modern businesses. Its security matters the most, and ensuring its protection is now a top priority. Your IT infrastructure is a prime target for cyber-attacks, which have become increasingly prevalent and sophisticated in recent years. Ransomware attacks, in particular, have gained notoriety for their ability to bring businesses to a standstill. They cause significant financial and reputational damage. In the face of such threats, it is essential for businesses to prioritize the security of their IT infrastructure. This helps maintain the integrity of their operations and protect their sensitive data.
With increased visibility into the security of their IT infrastructure, businesses can identify and respond to potential threats proactively. They can ensure that they are adequately protected from any malicious activities that may be directed at them. The sophistication and frequency of cyber-attacks will continue to increase. Businesses must stay vigilant to safeguard their critical data and intellectual property.
5. Sustainability Guiding Tech Investments
In today's environment, sustainability is critical to top-line growth. As per Gartner, 87% of business leaders are anticipating a surge in their company's investment towards sustainability within the next couple of years. Companies are expected to be socially responsible and prioritize environmental considerations in their operations. Investing in a sustainable IT infrastructure can help businesses meet these expectations while also creating a competitive advantage. By reducing their environmental impact, companies can build a positive reputation and attract customers who value sustainability.
When considering the longevity and viability of a business, investing in technology that is resilient can ensure that the company can survive unexpected events maintain operations even during challenging times. A sustainable IT infrastructure takes into account factors such as energy efficiency, waste reduction, and responsible sourcing, which all contribute to building a resilient IT Infrastructure.
Stay Ahead with IT Infrastructure Managed Services
The 2023 State of IT reports that the spending on managed services has increased. It went from 15% before the pandemic to 18% of IT budgets in 2023. Businesses are relying on IT Infrastructure managed services providers to ensure systems are 'always on'. With the growing reliance, a robust IT infrastructure is essential for businesses to stay competitive. Therefore, investing in IT-managed services and maintaining a reliable and secure IT infrastructure is critical for organizations to achieve their strategic objectives and drive growth.
Learn how Top Global & Indian Businesses are Leveraging Progressive Infotech's IT Infrastructure Managed Services. Connect with our IT experts.