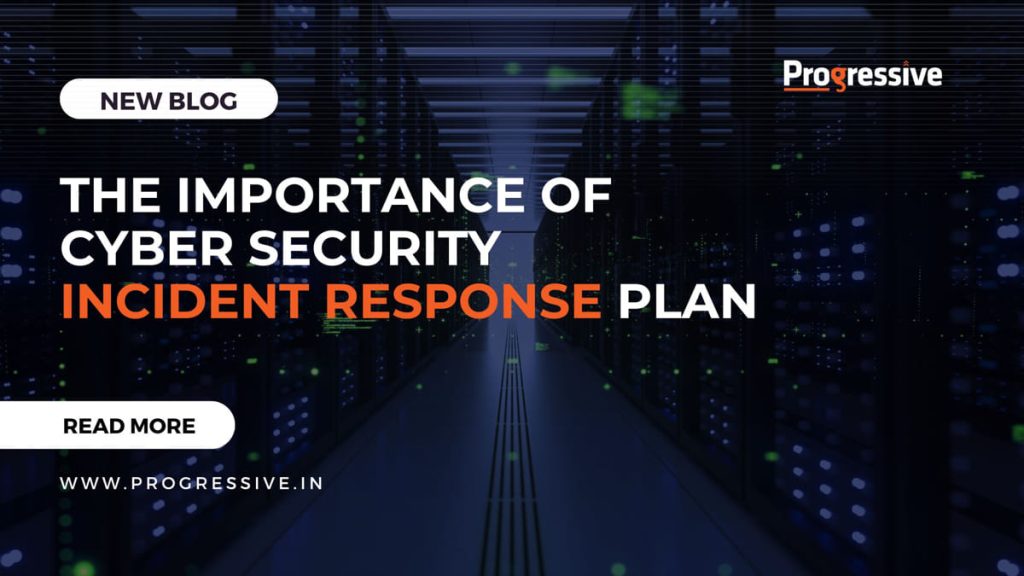 Every company, regardless of size or industry, is at risk of cyber-attacks. Threats can result in the loss or theft of sensitive data, disruption of operations, and damage to the company's reputation. Every company thus needs to have a cyber security incident response plan. A cyber security incident response plan outlines the steps that a company should take in the event of a cyber-attack or data breach. It includes the roles and responsibilities of various team members, procedures for communication and reporting, and guidelines for forensic investigation and recovery.
Steps that should be included in a cyber security incident response plan:
Identification: The first step in responding to a cyber-attack is to identify that an incident has occurred. Cyber incidents can be identified through unusual network activity, security monitoring tool alerts, or reports from employees/customers about suspicious activity. Responding promptly is crucial to prevent further damage.
Containment: The next crucial step following the identification of an incident is to contain the attack thereby preventing further damage or spreading of the incident. This may involve isolating infected systems, blocking access to certain networks or resources, or shutting down certain services.
Analysis: After containing the attack, the next step is to analyze the extent of the damage and determine the root cause of the incident. This may involve collecting and analyzing log files and conducting forensic investigations.
Recovery: The next step is to implement a plan to recover from the attack and restore any lost or damaged data. This may involve rebuilding systems, restoring data from backups, or implementing patches or security updates.
Communication: It is important to keep stakeholders informed about the incident, including employees, customers, regulators, and the media. This may involve issuing press releases, updating social media accounts, or holding press conferences.
In India, companies in various sectors and industries are subject to different regulations and guidelines related to cyber security and incident response. Here are a few examples:
Financial sector: Companies in the financial sector, including banks and insurance companies, are subject to the Reserve Bank of India's (RBI) guidelines on cyber security and incident management. These guidelines require financial institutions to implement robust cybersecurity frameworks and incident response plans, and to report any significant incidents to the RBI.
Healthcare sector: Companies in the healthcare sector, including hospitals and healthcare providers, must comply with the Personal Data Protection Bill. This requires them to protect data, including sensitive personal data such as medical records. They are required to implement incident response plans along with reporting any data breaches to the relevant authorities.
Telecommunications sector: Companies in the telecommunications sector, including telecom operators and ISPs, are subject to the Telecom Commercial Communications Customer Preference Regulations. It requires them to protect customer data and implement measures to prevent spam and unsolicited commercial communications. The Telecom Regulatory Authority of India (TRAI) requires them to report any cyber security incidents.
e-Commerce sector: Companies in the e-commerce sector, including online retailers and marketplaces, are subject to the Information Technology (Reasonable security practices and procedures and sensitive personal data or information) Rules, 2011, which require them to protect personal data and to implement measures to prevent data breaches. The relevant authorities require them to report any data breaches. Companies need to be aware of and comply with any relevant regulations and guidelines in their respective sectors.
Frameworks and guidelines that can be used as a basis for developing a cyber security incident response plan:
National Institute of Standards and Technology (NIST) Cybersecurity Framework: The NIST Cybersecurity Framework is a set of guidelines and best practices developed by the National Institute of Standards and Technology (NIST). You can use a set of core functions as a foundation for developing an incident response plan. These functions include identifying, protecting, detecting, responding, and recovering from security incidents.
International Organization for Standardization (ISO) 27001: ISO 27001 is an international standard for information security management systems (ISMS). It provides a set of requirements for establishing, implementing, maintaining, and continually improving an ISMS, including guidelines for incident response.
Payment Card Industry Data Security Standard (PCI DSS): The Payment Card Industry Security Standards Council (PCI SSC) developed the PCI DSS as a set of security standards to safeguard cardholder data. It includes specific requirements for incident response, including the development and testing of incident response plans.
Cybersecurity and Infrastructure Security Agency (CISA) – Cyber Incident Scoring System (CISS): The CISS is a tool developed by the Cybersecurity and Infrastructure Security Agency (CISA) to help organizations assess and prioritize cyber incidents. A set of criteria for determining the impact and likelihood of an incident is included along with the recommendations for response and recovery.
Get a future-ready plan to secure your IT infrastructure with Managed Security Services
The Cybersecurity and Infrastructure Security Agency (CISA) developed the CISS as a tool. It assists organizations in assessing and prioritizing cyber incidents. Our team of experts can work with you to develop a comprehensive incident response plan. Our objective is to meet the specific needs and requirements of your organization. This may involve conducting a risk assessment, identifying potential threats, and establishing procedures for responding to and recovering from incidents.
In the event of a cyber-attack, we are here to provide ongoing support and assistance. Our 24×7 SOC can provide real-time monitoring and alerts. Also, the technical expertise and assistance to help you respond to and recover from the incident. We can also coordinate with external partners and cybersecurity consultants.
In addition, we can also help you test and refine it through regular drills and simulations. Preparing your team to respond effectively to a real-world incident can help ensure their readiness.
Finally, we can provide your employees with cyber security training to help raise awareness of best practices and common threats. This can include training on several factors. It includes how to identify suspicious emails, how to create strong passwords, and how to report potential threats.
We have a strong track record in infrastructure-managed services. Our teams can assist you in developing and implementing an effective cyber security incident response plan. We also provide ongoing support and assistance in the event of a cyber-attack. So, we can be a reliable partner for your company's cyber security needs.