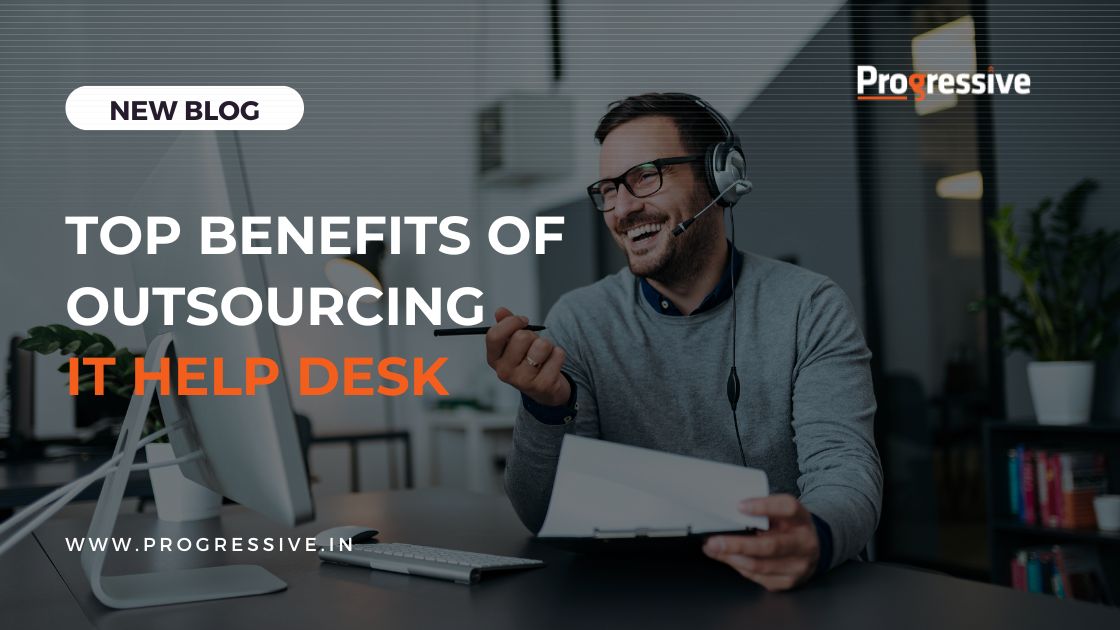 As technology continues to play a crucial role in driving business success, many CIOs are reassessing their partnerships with managed service providers. With the IT Help Desk's pivotal role in supporting operations, it's essential for leaders to choose wisely and align outsourcing with their unique priorities and business goals.
Consider the following IT Help Desk Outsourcing Facts:
Outsourcing your IT help desk is a smart choice for businesses as it saves costs and resources, which are required to manage it internally. A trusted managed services provider can offer professional IT support, eliminating the need for in-house management and recurring expenses. By outsourcing, businesses can benefit without facing the complexity of running one themselves while considering the cost, implementation, and efficiency.
Is your IT department being diverted from its core responsibilities due to frequent employee problems?
Are important company projects being impacted by the IT team's need to attend to user issues?
Is the IT team struggling to meet user expectations in terms of response time?
Are expenses for IT increasing rapidly?
Is your IT department overextended and unable to handle all its tasks?
Are technology interruptions and slow network speeds hindering the efficiency of your employees?
Here are 12 reasons why you should consider Outsourcing IT Help Desk Services
1. Instant Support, No Loss of Productivity
Modern IT Service Desks leverage tools and technologies to engage end-users and drive real-time resolutions. Driven by a first-call resolution (FCR) approach, the support allows end-users to get their queries addressed faster with minimum or no downtime.
2. Scalability – 24 x 7 x 365 Service
Businesses run 24/7 and so do IT help desks. You can achieve the scalability and flexibility required to drive support for your business users by enabling 24/7 services for queries related to IT, HR, Field, Finance, and Facilities. 360-degree workplace support can be one of your competitive advantages to grow better.
3. Automation-led Efficiency
Manual ticket management can cost $22 per incident. Outsourcing your IT support and services to a managed services provider brings you the benefits of world-class tools and technologies that they've been improving continuously. For instance, an employee self-service portal facilitates the resolution of 35%-40% of requests, that are recurring, automatically. It's time to rethink the value you're getting out of your existing IT vendor.
4. Omnichannel Support
End-users prefer to access support services from the communication channels they use every day. Chatbots with seamless integration capabilities can customize service desks to streamline support services across various widely used apps and platforms.
5. Mature Processes & Timely Resolutions
Outsourcing not only limits the advantage to the services but also provides you with substantial exposure to industry best practices and the capabilities they have built with years of expertise. You obtain proven methodologies that ensure timely resolutions across a unified environment that suits your end-user needs.
6. Specialized Support Levels
Several technologies require specialists who handle their implementation, support, and management for the end-users. This incurs additional costs to your IT. In these cases, an IT help desk can offer you its resources or enable multiple support levels (L1, L2, L3) as per your needs.
7. Unified Collaboration
In a hybrid world of work, collaboration is a fuel to faster business operations and the growth it brings. Service desks help businesses to enable a fully digital workplace by providing support for collaboration applications and technologies they use to team up for a project, share files and documents, and collaborate over virtual desktops whenever required.
8. Global Support Provisioning
Remote work has brought numerous benefits to businesses, particularly in terms of access to talent around the world. The IT service desk can tailor offerings in terms of location, language, and hours of operation to offer complete support for a global workforce.
9. Optimized Support for Hybrid Work
Hybrid work is inevitable. In fact, 25% of all professional jobs in North America will be remote by end of next year. Driving digital workplace support for remote and in-office workers, an automation-led IT help desk helps simplify remote support provisioning and speed response times. Businesses can leverage IT help desk automation and achieve hybrid work optimization.
10. Improved End-user Experience
SLAs cannot fully measure the outcomes when it comes to IT helpdesk services. Businesses often experience 'the watermelon effect' in outsourcing where SLAs are met but the end-user experience isn't improved. It's time to embrace Experience Level Agreements (XLA's) over SLA's for IT help desk services to elevate your end-user's experience.
11. Reduced People Dependency
A global IT help desk offers self-service portals that help users resolve common issues without contacting a service desk agent. These are streamlined within chatbots as one-click troubleshooters which are better than lengthy FAQs and knowledgebase. It helps reduce the need for human intervention for regular queries and fosters digital dexterity in your organization.
12. Cost Savings – Better ROI
Onboarding an in-house help desk team and training the employees can turn out to be incredibly expensive for your organization. On the other hand, an outsourced IT help desk provides support services tailored to your budget and needs. It also saves you the extra cost spent to handle a surge in the user request volume using automation.
Get Started with Progressive's 24×7 Global Service Desk
Hybrid workforces have become a new norm without a doubt. To improve support for remote and in-office workers, many businesses have turned to automation to ramp up IT help desk services and speed response times. Leveraging the automation approach, Progressive's Global Service Desk simplifies support services delivery and provides a reliable IT help desk outsourcing solution to businesses of all sizes.